An encyclopedia for all things Paramount Pictures UK.

Our project contains 25 articles and 119 images.

Anyone can add or edit content - please get involved!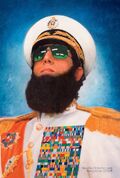 The Dictator is a 2012 comedy film co-written by and starring Sacha Baron Cohen. His fourth feature film in a leading role "tell[s] the story of a dictator who risked his life to ensure that democracy would never come to the country he so lovingly oppressed", according to distributor Paramount Pictures.[5] The film is directed by Larry Charles, who previously directed Baron Cohen's mockumentaries Borat and Brüno. Cohen, in the role of Admiral General Aladeen, a dictator from the fictional North African country of the Republic of Wadiya, stars alongside Ben Kingsley and Anna Faris.

"My momma always said, "Life was like a box of chocolates. You never know what you're gonna get.""
Forrest Gump

Create blog post



In the next month, Paramount Pictures will be setting a new precedent for film and fan interaction with the release of Paranormal Activity 3. Today saw the launch of their unique Tweet to See it Firs…

Read more >


After viewing the trailer for the upcoming Footloose remake, director Craig Brewer appears to be bringing a hip hop update to the premise of its 1984 predecessor. With the lead roles passing from Lo…


Read more >
See more >

Which upcoming Paramount film are you most looking forward to?
Community content is available under
CC-BY-SA
unless otherwise noted.